AI - From buzzword to reality
By Vishal Bali, Managing Director APAC, Client Solutions and Innovation, GfK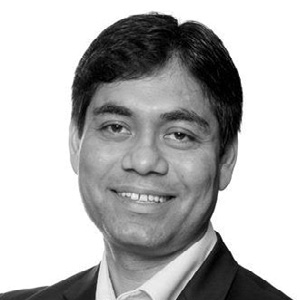 Vishal Bali, Managing Director APAC, Client Solutions and Innovation, GfK
Being a 'digital first' or 'mobile first' region, Asia leads the world when it comes to consumer adoption of technology and new products. Be it the consumers in China or Indonesia, Asian consumers love to try out new things as evident from the success of digital payments, e-commerce and social media in Asia.
However, when it comes to the business world, it's a mixed bag where we have some of the highly sophisticated and digital organizations co-existing with some of the more traditional organizations in Asia.
While Artificial Intelligence (AI) is big on the CEO agenda, there is a big gap in terms of leveraging AI in the business operations. A study by Microsoft reveals that while 4 out of 5 business leaders believe AI is important to drive competitiveness of their organizations, the actual number of organizations embracing AI in Asia is much lower.
There is plenty of hype around AI but only a few really understand how to leverage Artificial Intelligence and its applications to empower their business. The underlying reasons for the same are largely internal, for example - limited skillset /knowledge of AI among employees, improper data and cybersecurity implementation, and lack of clear metrics to measure impact.
I would like to argue that the real success of AI will depend on 'de-mystifying' various terminologies and bringing the focus on the use cases of artificial intelligence applications. I often see people being caught up with terms like machine learning, deep learning and robotics process automation while discussing AI, rather than focusing on how AI can make life simpler for their consumers or stakeholders.
Implementing AI – focus on the 'outcome'
For a business to succeed in today's hypercompetitive world, it needs to focus on the following:
a) Internally: Becoming more efficient, effective and productive
b) Externally: Offering a truly differentiated experience to its customers to drive stickiness or repeat purchase
c) Disrupting its business model to transform
Ultimately, all AI applications (regardless of what they are known as) should help in driving one or more of the above priorities.
Artificial intelligence has immense potential in these areas and here are some most common user applications that organizations are offering their customers today:
• Providing better customer service leveraging chatbots especially in the financial and travel industry
• Using Image recognition to drive seamless customer experience especially in the retail industry
• Transforming the transportation sector with driverless vehicles or cars
• Making recommendations or enabling personalization engines to suggest products to purchase or content to view in the retail and media industry
Artificial Intelligence implementation is less of a 'technology shift' and more of a 'cultural shift' within an organization
• Providing diagnostics/prognosis leveraging deep learning models in the healthcare industry
• Predicting likely maintenance schedule in the industrial world
The key for many of these applications is how well they integrate with the evolving customer needs and internal environment within an organization. This is important to ensure the employees and customers have a smooth and frictionless experience.
Focusing on solutions that drive business outcomes or impact is the best way to drive AI implementation in an organization.
Succeeding with AI – what, where and how to start?
In many large organizations, by virtue of their size and complexity, the focus is on leveraging AI to create customized solutions that work for their unique organization environment.
With all the buzz around Artificial Intelligence, many businesses are facing the big question of where to start?
In my view, the best way to leverage AI is to focus on finding solutions to 'real business issues or problems'. Too many organizations take a half-hearted approach and focus on small things. As they say, 'fortune favors the brave'… Focusing on big business problems help to quantify the impact of AI thereby building credibility within the organization and ensuring a direct impact on raising the competitiveness of a business.
I believe the best model for launching a first time AI initiative would be to have a cross functional team headed by a business leader to decide on the scope, design and implementation of such an initiative. Of course, one should put the right mechanism to measure the impact of such initiatives as well.
The first task for this cross functional team is to define the future state scenario and socialize it with its customers, employee or other impacted stakeholders to get and incorporate their feedback. This also helps to get 'buy in' and build consensus with stakeholders on the likely solution.
It is important to do a readiness assessment before launching an AI initiative. Do we have sufficient data to leverage AI? Is that data structured or well organized? Do we have the right skill set such as data science to facilitate data fusion / integration? What is the minimum resources/ data required to deliver on the business objective? Do we have the right technical skills to develop in-house or outsource?
Post the readiness assessment, the next step is to draw up a solid execution plan with milestones and a timeline and align all stakeholders. Given the potential innovative nature of some of these projects, one needs to follow the right project management approaches and put proper governance measures to ensure resources and information flows smoothly.
One of the most important aspects is to consider the impact of an AI-centric solution on the workforce. Would certain tasks go away completely? Can people be re-deployed elsewhere? Can people be up skilled? These are some questions to focus on as organizations plan their AI strategy. It is well known that people are scared of AI taking away jobs, however, with proper planning, the impact can be minimized while improving the overall competitiveness of the organization.
To sum it up, an Artificial Intelligence implementation is less of a 'technology shift' and more of a 'cultural shift' within an organization. The key to success is to focus on the right problems, right team and right alignment between IT and business.
However, the most important thing is to have the right 'human touch' - to align, assure and alleviate concerns that people may have. Only then can the power of AI be unleashed across the organization!
The views and opinions expressed by the author are his own and have no linkage to the organization he works for.
Author: Vishal Bali is the Managing Director, Client solutions and Innovation of GFK and is responsible for driving client value and growth across GFK's businesses in Asia Pacific and META.
Vishal has over 18 years of experience in digitalization and launching innovative measurement and analytics solutions such as the world's first network polling measurement based product in developing markets, Southeast Asia's first smartphone metering solution and china's first cloud based MTA solution. In his free time, Vishal mentors startups and reads about the digital/AI world.