Artificial Intelligence Aids Humankind
By Salim Naim, CTO (Asia Pacific & Japan) Advanced Analytics and Data Science, Microsoft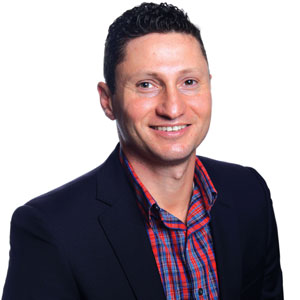 Salim Naim, CTO (Asia Pacific & Japan) Advanced Analytics and Data Science, Microsoft
After conquering mobile and cloud, the next target for Microsoft is artificial Intelligence. Microsoft's artificial intelligence (AI) program is categorized into three core areas. The first deals with making technological breakthroughs for the company through research and development in AI. The second is responsible for developing tools and applications that can leverage machine learning to create intelligent systems. And the third, known as Data and AI Global Domain, acts as a consultant helping clients and partners harness the complete benefits of AI and improve their business. Salim Naim, CTO (Asia Pacific & Japan) Advanced Analytics and Data Science, Microsoft, shares with us insights on the capabilities and the future of AI.
1. How capable is AI today in helping people overcome the existing challenges, and what role does big data play in developing AI?
AI has progressed remarkably in recent years. Today's computers can gather and analyze data efficiently and guide decision making in certain cases more accurately than humans can. Computer vision, machine translation and speech recognition are examples of areas that have improved by leaps and bounds.. Going hand in hand with these developments are the advancements in natural language processing. Computers might soon be able to read books and answer any relevant question. AI deals with three key aspects: sensing the physical world be it via vision, sound or digital sensors, comprehending this data to establish relationships between them to arrive at logical conclusions, and finally, using these conclusions to recommend meaningful actions.
When you look at the volume and variety of available datasets, the necessity of big data becomes clear. Big data analytics helps the models that underpin AI, 'learn.' In recent years, terms like big data, AI, and machine learning have been used interchangeably, and it is important for leaders to understand the differences between them correctly. Whether it is the traditional models of machine learning or the latest techniques of Deep Learning, data is essential in developing the sense of 'intelligence' that AI is all about. This data comes from what companies have collected over the years but have never fully utilized beyond basic reporting.
Organizations can also augment their own data with data from external sources to infer "connectedness" and derive more meaningful insights.
AI, when integrated into an organization's system, can have a substantial impact on their entire value chain
The area of AI that has the most potential for business impact is predictive analytics.
2. What kind of an impact does AI have on the end user, be it an employee in the organization or a customer?
AI, when integrated into an organization's system, can have a substantial impact on their entire value chain. Customers are the most crucial link in the value chain and customer centric organizations are willing to go the extra mile to satisfy their requirements. Companies are tailoring customer experience in a manner that suits the needs of each customer. 'Chat-bots' is one technology that has been widely adopted in the recent past, allowing customers to access support, 24/7. This is a vast improvement from the previous regime of 9-5 customer support. Targeted advertising and promotions based on user preference allows customers to see personalized relevant content, leading to higher click-through rates. All these advances have been possible only due to the marvels of AI.
AI allows organizations to automate processes, increasing employee productivity empowering them to focus on tasks that require human intuition, leaving the mundane, repetitive tasks to AI. This improves quality of work, reduces burden, and increases work efficiency of all employees. By optimizing planning and scheduling, downtime can be reduced, and organizational efficiency can be improved. This will, in turn, allows companies to maintain or increase their points of differentiation.
AI is capable of analyzing various patterns and can predict breakdowns and failures in multiple industries. For instance, in the manufacturing industry, it can analyze if working conditions can turn hazardous. This technology will go a long way in improving employee safety. Organizations are attempting to convert their vast repository of unique data into assets that can possibly be monetized in future. While this is still a theory that is being experimented for traditional bricks and mortar businesses, its potential is very high.
3. As a veteran in the field of technology, what would be your advice to entrepreneurs and industry leaders adopting AI?
The first thing I would like to tell everyone, be it entrepreneurs or experienced leaders, is—AI's capability is only limited to your ingenuity. The ways in which your organizations can leverage AI is unlimited, and you need to define own use cases and design intelligent systems accordingly.
Entrepreneurs should realize that effective utilization of AI and cloud technology can define the success of your company. Identifying the right opportunities and creating a niche for yourself are possible only with the aid of technology like AI. Industry leaders who work for large organizations need to implement AI in such a way that it augments their existing capabilities. All advances made over the last decade through digitization and the Internet can be built upon using AI and cloud infrastructure. This will help your organization reap greater benefits.
I advise all leaders to experiment with AI if you haven't done so already. As with all emerging technology, only through constant research and experimentation can you truly strengthen your understanding of AI, which will help inform the full potential for your organization.