Filtering the Challenges of Indoor Air Quality through AI
By Jason Tang, Vice President, OurAir Digital, Global, MANN+HUMMEL Group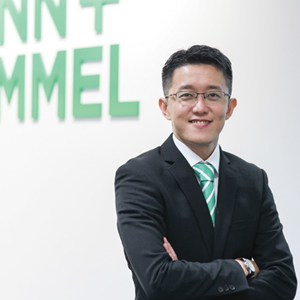 Jason Tang, Vice President, OurAir Digital, Global, MANN+HUMMEL Group
Use of AI in Facilities Management
It should be in every organization's interest to transform its buildings into clean and healthy environments. But how can a company take control of its indoor air? Based on an estimate, only 6% of
HVAC systems
are smart and 86% of the building maintenance is reactive.
While filtration is a small part of a building operation, it is not an insignificant part as it impacts the air that is circulated in the building. People drink 2-3 liters of water but breathe 11,000 – 15,000 liters of air every day, and it is a critical health and wellbeing indicator of a building that can cause immediate discomfort and health issues if not addressed. This is even more important since occupants cannot do anything to improve their air, unlike temperature (one can put on extra layers), or light (one can move to another location where there is no glare or sufficient lighting).
MANN+HUMMEL delivers AI-based indoor air quality and proactive maintenance powered by Iot. What it does is predicts the air quality during seasonal changes, and either supports or makes decisions for the FM – either upgrading the building's filtration due to external conditions, making the purchase in order to meet increased usage. This will make maintenance proactive, while saving costs by reducing scheduled, but perhaps unnecessary, maintenance. Decisions taken will be based on evidence from actual operations.
This will have a tremendous impact on the facilities management industry. From an operational role, it will enhance productivity and enable FM's ability to plan more strategically.
Ethical Concerns of Using AI in IOT solutions
There are generally two key issues for us. First, the issue of data privacy as the amount of air quality data is huge and would only increase; particularly for AI to progress further.
Second, the potential lack of transparency about what goes into the algorithms that power the AI.
Some of the steps that we have taken to address these issues are through regulatory compliance and some level of transparency in the way we use AI. Particularly in Europe, where regulations around privacy data are very stringent, and even more so in our home country, Germany. We comply with the GDPR (European Union's General Data Protection Regulation) requirements; as well as providing transparency to our clients with our real-time data visualisation tool.
However, upon closer look, air quality data, like other urban data such as temperature, humidity and even transportation flows, do not generally affect personal privacy. The key concern is whether FMs and building owners would want to share this information more widely to their occupiers/ tenants, as the perception is that more data, means more "work" for the FMs.
While filtration is a small part of a building operation, it is not an insignificant part as it impacts the air that is circulated in the building
Nevertheless, occupiers are already starting to ask for greater disclosure, particularly in places where outdoor air quality has deteriorated to hazardous levels and indoor environments are considered a safe refuge from air pollution. Perhaps the conversation around ethics is reversed in this case – there should be greater data disclosure in order to be ethical.
Use of IOT and AI in Filtration
Filtration and digital transformation go hand in hand at MANN+HUMMEL. We believe that digitalization has a profound impact on how we do business.
Our digital solutions aim to address developments in society and their influence on our daily life, including air and water pollution, sustainability and electric mobility, as well as MANN+HUMMEL's traditional areas of business such as automotive and industry.
The commonality across the different industry verticals is our ability to combine digital technology (smart, connected, IOT and AI)with our filtration expertise, to come up with solutions which identify or prevent problems before they arise. Our goal is to deliver productivity improvements for our customers, strengthen our leadership position in filtration and better protect people all over the world.
A few examples of how intelligent filtration works:
OurAir
IOT-enabled clean air solutions that monitor indoor air quality and provides data analytics and insights. This enables IAQ improvement without overrunning in costs, and filtration management via the OurAir Digital Platform. The outcome is consistently clean air for better occupants' health.
Senzit
Intelligent air filter monitoring provides more uptime to our customers and manages fleet maintenance. It uses sensors to monitor the air filter status of agricultural, construction or mining machinery. In addition to the filter load status and remaining filter lifetime, Senzit also registers the number of machine hours worked. The result: highest utilization of the filter capacity and longer service life of the machines.
Fine Dust Eater
A platform that uses self-regulating swarm intelligence that can control the operations of outdoor air purifiers known as "Fine Dust Eater", based on time of day, noise acceptance, weather and actual levels of pollution caused by vehicular traffic. Maintenance and service requirement is simplified, as it is now easier to estimate when the filters need to be replaced.
Overcoming Challenges in Adoption
So far, most of the progress for AI development has been in what is often referred to as "narrow AI"—where machine-learning techniques are being developed to solve specific problems.
What MANN+HUMMEL has done is to broaden AI development through partnerships with universities in Southeast Asia, Germany and the US; as well as the start-up community and IoT specialists. Together, we explore other types of problems, besides very specific problems which we might have thought up ourselves.
The digital experts in the MANN+HUMMEL Global IOT Lab are actively working on projects which will impact MANN+HUMMEL's traditional filter business. For instance, how filters are produced and developed, to how filters are sold and lastly, how filters are used by customers and consumers. Through digital technologies and AI, we are closing the feedback loop and enhancing the experience for our customers.