How Artificial Intelligence is Transforming Online Banking
By Jeremy Hubbard, Head of Digital, UBank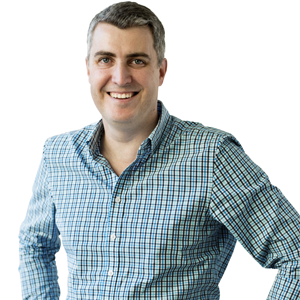 Jeremy Hubbard, Head of Digital, UBank
Artificial intelligence (AI)
isn't a new term, but it's one we continue to hear more about in the financial services industry. As a technology with endless possibilities, we're already seeing it delivering clever efficiencies for customers and solving age-old issues. This article looks at the use of AI in online banking and what lies ahead.
I'm often asked what the future of banking looks like. I usually tell people to look in their pocket.
Our smartphones are always close to hand and they're displacing many of the functions previously performed in a physical bank branch.
Thanks to digital, queuing up at the bank is a thing of the past. But what these personal assistants will be able to do in the future, fuelled by AI, is even more exciting.
AI isn't new but, as it moves from sci-fi to everyday life, it's generating a lot of discussion. We've all seen IBM Watson beating human champions at Jeopardy but the technology's potential use across industries is incredible.
The finance sector is a complicated one. In January of this year, Australians made 504 million debit card transactions according to the RBA. This generates a staggering amount of data, which needs to be processed on a daily basis. We're also talking about a necessary part of life, and yet many Australians freely admit they don't fully understand how their finances work.
If there's one, single impact AI will have on banking it will be improving the fundamentals of how we bank.
AI at the starting line
AI isn't some future-looking technology. Banks are already using it to improve processes and customer experiences. As we see new technologies enter our world, we're increasingly seeing customers engage with us on different channels. We need to provide an awesome experience on those channels that is personalised to their needs.
Almost a year ago, UBank launched RoboChat–the first virtual assistant in Australia–to help potential home buyers and refinancers through the process of online home loan applications. It uses IBM Watson's Conversation API to provide speedy advice to for customers that are applying for a home loan.
The benefits of this are obvious. Instead of having to scour the internet for answers, customers can type questions into virtual assistants and get the answers in real time as they're making transactions.
Instead of having to scour the internet for answers, customers can type questions into virtual assistants and get the answers in real time as they're making transactions
It frees up customer service staff to work on complex or individual problems as they occur.
AI also works in the background at many of our banks. Banks have tons of data, which AI brings to life, better predicting client outcomes, fraud prevention and creating operational efficiency.
Changing the transactional relationship
But I'm more excited about the bigger picture AI brings to banking. It will allow us to change the customer relationship.
Think about a traditional banking scenario like processing a cheque. You had to visit your bank branch, hand over the cheque, have it stamped by a clerk and processed before the money showed up in your account a few days later. It's a laborious and transactional exchange.
This no longer meets consumer expectations. They don't want to be segmented by demographic or mindset, they want to be treated as individuals. We expect seamless, insightful and connected journeys whether we're buying a pair of shoes or getting a mortgage.
So, what does this mean for banks of the future?
Firstly, it will be a self-service model, where customers expect to be able to access a full suite of banking products on their own terms. Secondly, it will move finance from a purely transactional process into a customer-centric one, where banks need to provide highly personalized customer services. AI will make this achievable at scale.
This will fundamentally change what it means to visit a 'bank'. Instead of just processing a transaction, we'll be able to tailor advice, help with financial literacy and provide meaningful insights. Ultimately, we will be able to create highly personalized digital customer relationships.
Solving age-old issues
But how do we reach this future? We need to shift the way we innovate inside and outside of the bank to solve age-old issues. The good news is we're only limited by our imagination and determination. For this reason, we don't see UBank as a bank. We see ourselves as a fintech with a banking license.
Companies, such as Google, use the 70:20:10 model when it comes to how they invest funds and time: 70 percent on things you have to do, 20 percent on things which are likely to work and 10 per cent on things you're willing to risk. It's something we've been using at UBank to improve innovation.
The most powerful part of this formula is that when you give yourself the space to experiment, you need to have permission to fail. It's only by allowing things to go wrong that you're emboldened to push the boundaries and create true innovation and disruption.
This also means you can move quickly–which was the case with RoboChat. We designed, created and made it live in just eight weeks. Speed to market doesn't mean compromising on customer experience–these considerations have to go together. We ensure the teams working on projects like this include people from different parts of our business so consistent experiences are baked into the idea.
AI has the potential to re-energise banking. It will improve the relationship we have with our customers, the efficiency with which we run our organizations and the innovation we develop. Fundamentally, this has the potential to change what it means to be a bank–and what it means to bank with one.