Next Generation Marketing Powered by Artificial Intelligence
By Arvind Sethumadhavan, Chief Strategy & Innovation Officer, Dentsu Aegis Network APAC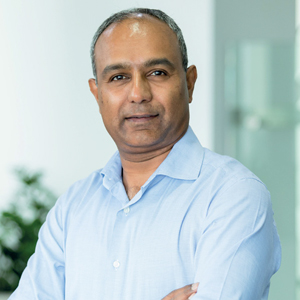 Arvind Sethumadhavan, Chief Strategy & Innovation Officer, Dentsu Aegis Network APAC
As a professional marketing services firm, we are a people-based business, which is data-driven, tech-enabled, and ideas-led. To give you a sense of the scale of data we touch, Michael Driscoll, the CEO of Metamarkets and a former computational biologist once famously said "the world of ad tech processes about 400 billion transaction events per day, while the New York Stock Exchange processes a puny six billion trades; and programmatic ad trades use up to 100 data fields each, while a stock trade only has 10 (bid price, ticker symbol, etc.)".
To deliver targeted and tailored marketing messages at scale in real-time, we leverage the muscle of machine learning to make this possible. In a platform driven world, technology will be a great leveler, and businesses will win or lose based on the strength of their ideas. I play a bit of chess; Garry Kasparov will beat me any day sleeping and yet Deep Blue (a chess-playing supercomputer developed by IBM) won against Garry Kasparov in 1997. With that in mind, Garry Kasporov plus Deep Blue will clearly be an unbeatable pair. The point to note here is the superpower of augmenting human intelligence with technology. Our focus on augmenting the human capital and domain expertise we have with machine learning in our view is not about man vs machine, but rather man + machine, which will bring the greatest benefit to our customers.
AI is now ingrained in most digital technologies and is impacting various industry sectors we serve such as self-driving cars for an automotive business, smart wearables for healthcare business and chatbots for a financial services business. For our own business, AI helps us build products which automate various routine tasks with added intelligence for our workforce, which is freeing up time for them for engaging in more value-add areas of strategic importance to our customers.
Our focus has been on leveraging AI and Machine Learning embedded in existing digital technologies to improve the effectiveness of marketing communications. In the context of marketing, we leverage AI on three fronts:
First, enhancing the power of voice-led communication in the mobile-led world. As more consumers incorporate voice-enabled and assistant-powered devices in their daily routines, it is clear that voice and virtual agents are here to stay.
In a platform driven world, technology will be a great leveler and businesses will win or lose based on the strength of their ideas
Our Digital Performance Marketing agency, iProspect, in collaboration with insights firm, IdStats Research & Consultancy, recently published a whitepaper on voice technology, titled "The Future is Voice Activated." The report surveyed over 1,800 smartphone owners aged 18 to 50 years old across the Asia Pacific in April 2018 to reveal the impact and scale of voice technology in the areas of voice search, voice-activated AI assistants, voice-enabled application functions, to name a few. In the Asia Pacific, the study found that 62 percent of respondents used voice-activated technology in the past six months, with India (82 percent) and China (77 percent) emerging as leaders in voice adoption.
Second, delivering auto personalized content enabled by real-time data at scale is key to drive relevance at the moment of engagement. Isobar, our agency that delivers digital transformation powered by creativity, recently published their Augmented Humanity trends report for 2019 that explores the changing nature of the human relationship with technology: from how we work and play, to how we travel, shop, spend our leisure time and engage with brands. The report is focused on a belief that technology augments our experience of the world, allowing us to work more efficiently, to live healthier lifestyles, to make better human decisions, and to expand our creativity.
Isobar's five key trends for 2019 are:
• The evolving interface - How the intersection between humans and technology is changing
• The human algorithm - How data can help us to better understand ourselves and enable better decisions
• The fluid versus the collective self - How the digital world enhances personal and collective experiences
• The trust paradox - How technology can help or hinder our understanding of the increasingly complex world around us
• The transformed experience - How Augmented Humanity enables us to feel and experience the world differently and in deeper ways
Lastly, onto delivering marketing return on investment (ROI), for predictive analytics, we use Machine Learning, which can analyze millons of combinations to evaluate the desired impact of marketing communications. Our proprietary attribution modeling solution – adcelerate, uses Long Short-term Memory (LSTM) as one of the mathematical models which have been developed in the field of deep learning to provide the effectiveness of digital marketing spend at scale. It is a multi-touch, multi-model platform that ensures the best predictive model is always automatically deployed to maximize ROI. The platform works at the granular level to uncover the best digital strategies that will lead to better outcomes at a speed and accuracy that humans cannot match. Results have been sterling so far, for instance, for leisure and entertainment client, revenue from e-commerce channel grew 22 percent year-over-year (YoY); credit card application leads increased 12 percent. For an insurer in India, leads for "contact me" improved 100 percent over four weeks.
Our 2019 Digital Society Index report across 24 markets globally that we recently released shows that India, China, and Thailand lead with over 60 percent of the respondents saying that emerging digital technologies such as AI and Robotics will create career opportunities for them in the next 5-10 years. This is a positive sentiment, and I believe the opportunity for businesses to harness artificial intelligence and machine learning is now, and leaders should invest in having skin in the game to develop new solutions by partnering with technology players who have the know-how to scale new solutions.