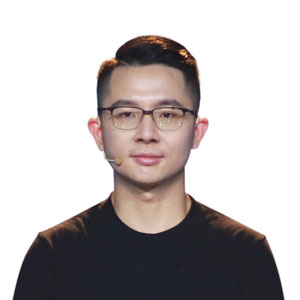 Yin Qi, CEO & Co-founder
In the year 2011, when 23-year-old Yin Qi along with co-founders, Tang Wenbin and Yang Mu laid the cornerstone of Megvii, his facial recognition technology largely powered online games. In no time, the young entrepreneurs made their mark, and their interactive online game made its way to the top five ranking in the Apple App Store in China. But a far-sighted Yin and Tang were not going to stop at that.
Although they knew that online games could rake in money, the young visionaries decided to chase their ultimate dream of robotics. Today, in just seven years of its journey, Megvii is recognized as one of Asia's leading AI+IoT technology company and counts industry bigwigs such as Alipay, Xiaomi, and Huawei in its clientele. What sets Megvii apart from the crowd? Their cutting-edge machine vision and AI efforts are dedicated to developing an advanced cloud platform for facial recognition, image recognition, and deep learning. "However, at Megvii we don't believe in technology for technology's sake," says Yin Qi, the co-founder and CEO of Megvii. "We believe in innovation with a purpose and our larger aim is to power humans with AI."
The company has developed their own AI learning system, Brain++, which is currently surpassing deep learning engines from several blue-chip companies. Megvii uses Brain++ to train algorithms that power Face++, the world's largest face-recognition technology platform. Today, if a consumer uses facial recognition to unlock their cell phones or make payments, chances are its powered by Face++ as the next-gen technology is used by 300,000 developers in 150 countries to identify faces, images, text, and government-issued IDs.
Megvii has developed their own AI learning system, Brain++, which is currently surpassing deep learning engines from several blue chip companies
"Overtime we realized that to emerge as the leading-edge AI specialist we had to go beyond algorithms and provide hardware as well," mentions Yin.
Megvii took the power of imagination and technology to new heights when it enabled Alibaba, the retail conglomerate to come out with the 'smile to pay' service, the latest in facial recognition technology that allows a customer to pay by smiling. The customer doesn't require a smartphone, provided that they have enabled facial recognition through the Alipay app. Instead, a 3D camera located at the point-of-sale scans the customer's face to verify their identity, coupled with phone number verification for additional security.
In another instance, Vivo the renowned smartphone manufacturer launched a series of camera-based 3D facial recognition applications in collaboration with Megvii. These applications comprise 3D head modeling, secure payment, portrait lighting, and beautification and are considered a breakthrough in 3D visual technology.
Going beyond retail and mobile solutions, the company has also acquired Aresbots, committed to R&D on intelligent robotics for logistics and warehousing and smart factories. While online shopping is the rage in China, most warehouses still subscribe to manual labor, which is time-consuming and inconvenient in a business world driven by improved user experiences. Now Megvii's state-of-the-art algorithms power intelligent warehouse robots that use advanced machine vision and AI to facilitate picking, material handling, and delivery of goods. The robots are designed to resemble a ground jack and feature self-learning capabilities, utilize wireless communication, and are equipped with collision detection and multi-level safety protection.
"The challenges in manufacturing robots while utilizing AI are constantly evolving. But dreams never end," says Yin. Megvii's next step in machine learning is to program the ground jacks to imitate the human brain to not only transfer goods from one point to another, but also determine how many goods need to be taken in a box.