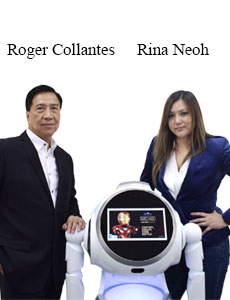 Roger Collantes, Co-Founder & CEO and Rina Neoh, Founder
When one mentions humanoid robots powered by Artificial Intelligence (AI), the thought of Sophia -- the humanoid robot -- gaining citizenship of Saudi Arabia knocks the doors of imagination. Though Sophia stands as a benchmark for AI-infused machines in the current day and age, designing robots for specific areas of applicability is a herculean task on its own.
However, the Philippines-based Smarter Robotics defies those odds and simplifies the development of AI-powered stewards with its holistic human robotics solution that focuses on three vital aspects: Humanoid Robot Leasing and Distribution, Grassroots Robotics Education, and Customer Experience Platform Development.
Smarter Robotics' pragmatic strategy of promoting service robotics and nurturing AI-powered machines through education is undoubtedly a bold and notable step forward in this genre of technology. The firm takes a comprehensive approach to educating the masses while offering them innovative technologies, going against the common perception regarding the usability of robots in day-to-day activities across developing regions such as the Philippines. "One common question we receive is, 'Is the Philippines really ready for this technology?' Our answer is 'yes, and why not?'-- given our efforts in changing the general notion of adapting robotics to address various industry requirements," begins Roger Collantes, Co-Founder and CEO of Smarter Robotics.
The Three-Fold Mission
Treading on an educational journey, Smarter Robotics upholds the vision of producing 'responsible stewards of AI and humanoid robots' all the while coaching its clients with a high standard of robotics training. The company has created a three-fold mission –of developing AI skills for the digital world, delivering Smart Robotics for kids, and promoting STEAM programming skills in schools -- that unleashes the true potential of companion robots. Collectively, Smarter Robotics built a consortium for AiaaS (Artificial Intelligence as a Service) through its business model. The firm has adopted various techniques for robotics development, depending on the revenue stream of clients, involving collaborations, adapting to the business models of clients, or by benchmarking some of the best practices of its workforce. Through this mission, the humanoid robotics education specialist aspires to position humanoid robots at the forefront of its innovative strides, empowering the mainstream audience to benefit from the technological sophistication offered by these machines in the 21st century.
"Our value lies in helping create a local landscape that appreciates and understands that technology is here to stay"
Last year, Smarter Robotics signed a strategic collaboration agreement with UBTech to promote a Humanoid Customer Experience Model that should serve as a 'key driver of the Fourth Industrial Revolution in the 21st century.' UBTech is a well-recognized humanoid robotics firm that specializes in AI; through their partnership with Smarter Robotics' principal Global Learning Solutions, UBTech aims to catalyze the development of companion robots that could assist humans in a myriad of ways.
Such partnerships emerge as crucial developments in the world of robotics, building up to a future where machines function as an essential tool of development across a diverse array of applications and use cases. Smarter Robotics recently forged an alliance with one of the leading digital banks in the Philippines to mobilize 'CRUZR,' a first of its kind contact service ambassador, across the client's digital branches in Metro Manila. The testimonial from the Chief Information Officer at the bank reads, "We were impressed with how easy and seamless it was to integrate CRUZR's AI capabilities with our existing chatbots and NLP platform. It took us less than a day to operate, reconfigure CRUZR's open API, and demonstrate its tremendous potential to our senior management!" This humanoid robot will be deployed across leading banks, malls, cinemas, dining restaurants, hotels, hospitals, airports, showrooms, museums, and exhibition areas, in an effort to serve digital-savvy customers.
The main function of humanoids is to take the drudgery out of the service workflows, allowing people to focus on the more important things like customer connection, empathy, intimacy, and creating loyalty
Built with "human-like characteristics," CRUZR features multi-modal interaction capabilities such as voice interaction capabilities, facial recognition, gestures, autonomous navigation, and unlimited data processing functionalities, all delivered through machine learning algorithms that form the matrix of the humanoid ambassadors. The robot can essentially welcome customers, recognize their identity profiles, carry out specific commands or tasks, and complete orders, along with entertaining customers. Using a Gait algorithm, CRUZR displays 360-degree mobility with 17 servos and self-navigation powered by the SLAM technology. Its surveillance functions are bolstered by night vision and depth-sensing cameras with remote access and teleconferencing feature sets. The robot also docks itself when in need of power, reducing manual intervention to a great extent.
These developments form the pedestal for the Three-Fold Mission of Smarter Robotics, leading to a broad spectrum of solutions that are primed at not only building robots but also crafting, training and mentoring them.
The Educational Road
"Our value lies in helping create a local landscape that appreciates and understands that technology is here to stay. The Association of Southeast Asian Nations (ASEAN) will play a pivotal part in the Fourth Industrial Revolution. Smarter Robotics, through these efforts, bridges the gap between digital and traditional practices that the Philippines or even the ASEAN market has been accustomed to," highlights Collantes.
Collantes' narrative shed light on the need for an amalgamation between robotics and AI -- two of the most prevalent technologies in the current day and age -- assisting humans in various walks of life. A congruence of this nature, utilizing the best of both worlds -- humanoids and AI -- cultivates the practice of aggregating data from multiple sources to effectively nurture intelligence that can implement smarter decisions across a multitude of applications. The strategy also serves as the overarching philosophy of developing the two technologies in tandem. Through such efforts of data aggregation, customers create memorable experiences in their enterprise operations while harnessing the true power of AI and robotics. Upholding this ideology, Smarter Robotics conducts boot camps and workshops for aspirants from around the world, from various age groups and demographics.
One of the testimonies of these knowledge exchange programs was the unveiling of CRUZR, the aforementioned contact service ambassador.

Smarter Robotics also offers a wide range of educational programs ranging from novice programming to advanced programming, AI robotics, and applied engineering programs. In one such program that was carried out at the Shangri-la Plaza in the Philippines, Smarter Robotics shared its experience in AI and humanoid robotics with kids who were 5 years and above.

Collantes believes that such strides in nurturing a collective learning environment motivate younger generations to pursue advanced courses in robotics and AI. The customer experience platform developed by SmarterRobotics abides by the principle of helping the masses gain comprehensive benefits of newer technological innovations. The novice level for learning is customized to cater to beginners across schools, preferably amongst the age group of 6-9. This program deals with the fundamentals of servomotors and control systems that enable a robot to carry out simple mechanical operations to assist humans in daily life activities. The advanced level of learning includes coding logic functions of sensors to perform measurements, detect movements, and avoid obstacles. These programs are strengthened by Smarter Robotics' partnership with UBTech, which allows the company to utilize the Yanshee programmable intelligent humanoid robot for educational and entertainment purposes. Additionally, the open-source robots facilitate the use of multiple coding languages, in accordance with STEAM curriculums. The company has forged a team of 'robocoaches' for various levels of training -- novice, intermediate, and advanced -- with experts well-versed in AI, electronics and engineering.

The Foundation for Companion Robots

As Collantes reveals, Smarter Robotics will be 'bullish' when it comes to enhancing the performance of their robots and the effectiveness of the learning programs by building a training consortium for the development of humanoids. "For Humanoid Robot Leasing and Distribution, we plan to infiltrate and collaborate with companies from different industries both local and foreign. For the Grassroots Robotics Education, we are on our way to becoming a holistic provider of robotics programs that will be accessible to different market segments. Lastly, for Customer Experience Platform Development, we are in discussions with our strategic partners from different regions across ASEAN," explains Collantes.

Smarter Robotics is bracing itself to adopt newer trends and developments in the robotics and AI landscape, guided by the vision of its founder, Rina Neoh, a well-renowned start-up guru and a technopreneur in Asia. Building upon Rina's principles, Smarter Robotics believes that humanoids are not meant to replace humans, but rather, help them reduce non-productive work such that they can have more time to serve customers. "The main function of humanoids is to take the drudgery out of the service workflows, allowing people to focus on the more important things like customer connection, empathy, intimacy, and creating loyalty," adds Collantes. Such collaborative/companion robots have been tipped to enhance the productivity of workforces, creating smarter jobs for people around the world. They not only reduce redundancy but also improve the efficiency in carrying various tasks, ranging from financial operations to educational initiatives. Observing Smarter Robotics' growth in recent years, the insurgence of a co-operative future is almost a no brainer, where machines serve as vital tools of business development.
- Selena James
August 08, 2019