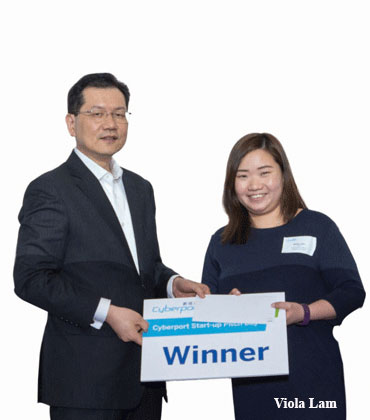 Viola Lam, CEO
In today's technology-powered world, the primary focus is to make education more student-centric and health system more patient-centered. Hence, the need to efficiently confront pertaining issues, has led to the steady adoption of Artificial Intelligence (AI) in the education and health sector. Moreover, the realization that tailored learning cannot be achieved on a large-scale using conventional, non-adaptive approaches has led to developments in adaptive learning and adaptive technologies.
Fuelled by the mission to tackle real-world challenges, is the Hong Kong-based start-up FS Artificial Intelligence. FS was founded in 2011 by Viola Lam, presently serving as the CEO of the company. Her insightfulness and her passion for public welfare, are among the reasons she was bestowed with one of the world's highest honours for young and successful entrepreneurs making positive contributions to the society. Recipient of the "Entrepreneur of the Year 2015" award, Viola was selected by the judges, from over 1,000 competitors from 68 countries, because of her vision in education, clear and sustainable business model, and her ambitious plans for growth. Under her staunch leadership, FS is transforming the way education is imparted through its novel AI technologies aimed to provide adaptive and personalized learning experience for students worldwide. "My own four-year old son, Noah was diagnosed with moderate autism. I started working on this software because of him," adds Viola, on a personal note.
FS adaptive learning platform enables effective detection of learning disability and measures real-time learning engagement using AI (face and eye tracking) technology.
Our AI-based technology can help diagnose, in children and adults, learning difficulties or potential mental issues
Viola asserts, "Our AI-based technology can help diagnose, in children and adults, learning difficulties or potential mental issues." The software has a fast response time of about 0.1 sec and prolonged use has led to 50 percent increase in learning engagement in students. This emotion sensitive learning system is designed to connect four parties or in the company's terminology '4 little trees' namely students, teachers, parents, and educational institutions. The technology is not intended to replace the existing learning methods or the pedagogical workforce, but rather serve as an aid to develop personalized holistic learning tools and objective student assessment. Giving insights into the companies clientele base, Viola says, "We're using our software in three educational centers and two Hong Kong primary schools will use our program as well. Moreover, we're planning to provide licenses to school and other education centers in the next quarter."
It is well established that identifying biomarkers will help improve diagnosis and develop more effective or even preventative measures early on in developmental disorders like ADHD, Autism or degenerative diseases like Alzheimer's. By coupling their Artificial Intelligence algorithms to features such as big data analytics, functional MRI scans, emotion detection, eye tracking, among others, FS aims to diagnose these markers, forecast patient health performance, and help doctors improve utilization of software for medical use. Viola states, "We are working with HK University and Polytechnic University to use this software for detection and screening of Alzheimer's disease."
Realizing the potential of their services and the room for growth in AI market, FS Artificial Intelligence is stepping into e-commerce sector with performance tracking, prediction, and analysis tools. Viola adds, "We're using our software with Emotional Sensitive Appraisals for the in-house control system to track Customer Service performance." Two accounting firms and two listed companies with 6000 employees and 200 employees respectively have shown a keen interest in adopting FS Artificial Intelligence e-commerce services. Though more companies have started developing adaptive technology applications, FS Artificial solution is way ahead of the curve in utilizing the power of Big data analytics and deep learning technologies transforming education, medical diagnostics, and e-commerce industry.