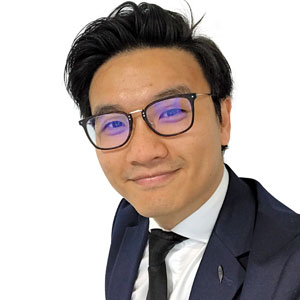 Harris Sun, Co-Founder & CEO
Industrial inspections using traditional manual methods can be quite tedious, risky, and expensive. The intricate structural designs of buildings often expose inspectors to a wide range of hazards—toxic gases and liquids, high temperatures, and more. In addition, the effectiveness of manual inspection may be limited due to the inability to access certain locations. To that end, most companies today are turning to drone technology to ensure a safe, effective, low-cost, and more comprehensive industrial inspection. Equipped with high-definition cameras, drones have the ability to capture detailed photos of any location. However, drones alone are not enough to enable a successful inspection process; robust technologies that can accurately process the large amounts of data captured by drones are required. This is where Hong Kong-based RaSpect has been able to imprint its significance in the inspection industry. Founded in 2017, this next-gen company has quickly emerged as the mastermind of modern inspection solutions by leveraging AI to automate the inspection process for buildings, rails, and aircraft.
Harris Sun, founder and CEO of RaSpect, says, "Our vision is to eliminate complexity from the inspection process, making it faster, more accurate, and risk-free." Wielding this vision into reality, RaSpect has built a ground-breaking AI-driven inspection platform that utilizes autonomous robots and state-of-the-art sensing technology to provide exceptional inspection analytics in four key areas: building inspection, infrastructure inspection and surveying, construction site surveying, and city surveying. The platform uses the visuals captured from drones or any other high-end camera and transforms the images digitally to create precise 3D models (with minimeter-level accuracy), which are then utilized for measurement, inspection, or surveying.
Our vision is to eliminate complexity from the inspection process, making it faster, more accurate, and risk-free
Apart from detecting flaws in structural designs, the platform is also adept at recognizing the pattern in which the defects occur and recommends ways to stop them from reoccurring.
RaSpect rolls out this cutting-edge inspection technology by collaborating with different local service partners, helping provide real-time access to inspection information and analytics and facilitating smarter decision-making. "With our approach, inspection companies can save more than 50 percent of their time and cost," mentions Sun.
Coupled with that, RaSpect also serves as an independent consulting inspection firm, offering automated inspection services directly to government agencies, properties developer, properties management companies and homeowners. For building inspection, RaSpect can onboard their clients and start delivering their services almost immediately, barring the time required to get inspection permits from regulatory bodies. When it comes to infrastructural inspection—bridges and roads—RaSpect's modus operandi involves detecting the structural damages in their early stages, before it becomes critical. "Our platform efficiently monitors those infrastructural wear and tear and shares detailed reports on its restoration processes," says Sun.
The robustness of RaSpect's inspection technology can be further substantiated through its numerous use case scenarios. For instance, RaSpect's inspection platform can be quite useful in construction site surveying. Site supervisors need to continuously monitor the construction work and ensure if the tasks conform to the original plan. RaSpect effectively tackles the task through their AI-driven platform. Moreover, the platform also provides integration for computer-aided design (CAD) software, making it easier for supervisors to cross-verify measurements and designs with the actual site's 3D model.
RaSpect's ability to provide an autonomous and cost-effective inspection solution has helped them gain substantial traction in the inspection landscape in just one year. Following this trajectory of growth, the company has also started making their own hardware—a wall climbing drone with ultrasonic device—that can be used to detect cracks in buildings. This can be an ideal alternative to building scaffolds and manually scrutinizing the construction for cracks. With such uniqueness, RaSpect is poised to transform the inspection industry in the coming years.