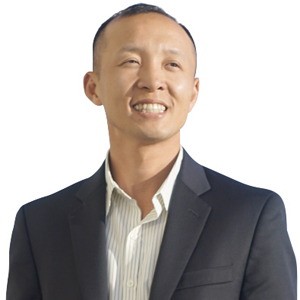 Xin Zhong, CEO
The head of a radiology department in Shanghai Pulmonary Disease Hospital is introduced to σ-discover/lung
TM
, a software platform 12 Sigma Technologies developed that helps interpret chest CT scans. Using the product for the very first time to view a patient's CT scan, the doctor discovered two previously unnoticed lung nodules. He instantly recognized the platform's value in facilitating rapid and precise detection of diseases. Moreover, the accuracy and reliability exhibited by the software are helpful for assisting doctors in medical imaging diagnosis and training less experienced staff. σ-discover/lung
TM
— the platform in question—leverages deep learning and artificial intelligence (AI) to automatically identify diseases by examining medical images systematically. "σ-discover/lung
TM
provides accurate detection and segmentation to help doctors tackle challenging medical cases," explains Xin Zhong, CEO of 12 Sigma Technologies. Unlike conventional computer-aided diagnosis (CADx), σ-discover/lung
TM
can inspect multiple diseases simultaneously and provide insights into several areas, including early disease screening, rare disease detection, treatment planning, and disease monitoring.
12 Sigma Technologies is a pioneer in applying deep learning and AI to modern medical image diagnosis and data analysis. The company uses a large number of medical images to train its deep learning neural network models on GPU-powered computers in a matter of days rather than months. 12 Sigma's research and development team boasts dozens of experts with PhDs in AI, computer vision and medical image analysis.
12 Sigma provides accurate detection and segmentation results to help doctors tackle challenging medical cases
Through strategic partnerships with over 50 top-tier hospitals and collaborations with companies like GE Healthcare, Nvidia, and Intrasense, 12 Sigma remains ahead of its competitors in both technology development and marketing. The platform integrates seamlessly with other solutions used in hospitals such as medical image viewers, thereby eliminating disruptions in doctor's workflow. For instance, σ-discover/lung
TM
can automatically assist a doctor reviewing patient information in a risk management system to interpret and analyze medical data with high accuracy.
With its cloud-based CADx platform, 12 Sigma is focusing on all types of lung diseases, which account for 15 percent of all deaths worldwide. The product helps doctors detect 14 pulmonary diseases, accurately, and provides intelligent structure diagnosis for determining whether a lesion is benign or malignant. "σ-discover/lung
TM
acts as another pair of eyes for radiologists and functions as a second opinion for doctors," remarks Xin. Based on Lung-RADS guidelines, the solution generates automatic reports for each follow-up examination, providing suggestions based on patients' history and the development of the disease since its initial identification. Such insights help doctors make a thorough assessment of affected patients and provide appropriate treatment. 12 Sigma's AI algorithm keeps learning and improving as doctors use the platform, resulting in higher anomaly detection sensitivity. Furthermore, any data collected by 12 Sigma to train its deep learning models undergoes a cleaning process where private identities are anonymized to ensure confidentiality.
In contrast to other medical imaging solution providers, 12 Sigma offers superior sensitivity, accuracy, and state-of-the-art functionality as demonstrated in a comparative-study performed by Duke University Hospital's radiology department. σ-discover/ lung
TM
outperformed other competitors by displaying 97 percent accuracy in detecting 3mm lesions, while the closest challenger managed 90 percent.
12 Sigma is actively recruiting new talent to help with its expansion into new markets globally and plans to deliver AI-powered solutions for different applications including cardiovascular and cerebrovascular diseases. With a vision to help doctors to reach optimal clinical decisions, the company is exploring potential application of its AI technology in precision medicine and pathological data analysis.