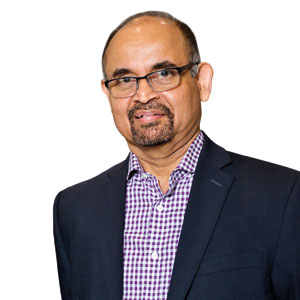 Vijay Nadkarni, Head of Artificial Intelligence
Today, using AI to gain insights into trends, patterns, and applications has become prevalent across all industries—retail, healthcare, financial services, and hospitality to name a few. Particularly, with autonomous vehicles taking to the streets, AI has opened up more opportunities for developers to enhance the status quo of transportation.
Embracing this advent of AI in autonomous driving from the frontlines is Visteon Corporation [NASDAQ: VC], a global technology company that provides cockpit electronics solutions for most major vehicle manufacturers. From fully reconfigurable instrument clusters and high-definition digital display technologies to driver monitoring, advanced driver assistance systems, next-generation infotainment, augmented reality and cockpit domain controllers, Visteon is set to underpin the monumental shift toward connected cars and autonomous vehicles.
Visteon aims to be the most advanced cockpit electronics supplier in the industry; the company traces it all back to when it started off as a conventional automotive tier-1 supplier and soon progressed into a software-centric, hi-tech company focused exclusively on designing, engineering, and manufacturing innovative cockpit electronics.
"The crux of what we do is in the direction of moving away from conventional technology into next-generation technology," explains Vijay Nadkarni, Head of Artificial Intelligence at Visteon. He explains that conventional technology is typically based on rules of logic that are very fixed ways of handling situations.
The crux of what we do is in the direction of moving away from conventional technology into next-generation technology
For instance, when the driver wants to stop at a traffic light, the conventional algorithm follows these steps: first, the red light is detected, and the brakes are applied. Based on whether there is another car ahead, the driver stops at the white line or behind that car. AI, on the other hand, can use a technology called reinforcement learning, where the vehicle observes and learns how to stop at the light perfectly, rather than following pre-defined logic. This is done by creating a huge number of simulations of the vehicle stopping at the light, with good and bad outcomes. Each of these different scenarios helps train the AI algorithm to perform that maneuver perfectly, while avoiding collisions and undesirable situations.
Visteon's DriveCore™ platform accelerates adoption of self-driving technology by facilitating automakers' building of driving solutions quickly, in an open collaboration model. DriveCore™ consists of hardware, in-vehicle middleware, and PC-based software toolsets needed to develop machine learning algorithms for autonomous driving applications of Level 3 and above. Also, its autonomous driving feature, highway auto-pilot—a hands-free vehicle operation in a highway environment—enables a vehicle to travel from the entrance ramp of a highway to the exit ramp on its own, using AI and other autonomous driving technologies, while the driver can sit in hands-free and pedal-free comfort.
The DriveCore™ platform provides automakers a high-performance, failsafe domain controller enabling all major areas of autonomous driving including sensor-fusion with perception, AI and computer vision algorithms, automated drive-by-wire actuation, and vehicle-to-vehicle and vehicle-to-infrastructure technology. It also uses highly advanced security protocols to prevent hacking into vehicles, while supporting the integration of data from multiple cameras, Lidar, radar, and other sensors.
With 40 facilities in 18 countries, Visteon is transforming the driver-car relationship through a world of advanced driving solutions and its domain controller expertise. "The majority of cars on the road have a maximum of Level 2 autonomy, but with the advent of capabilities like highway auto-pilot and driverless self-parking, the market is clearly ready to go toward Level 3 and 4 autonomous driving, which paves the way for improved safety, productivity and driving efficiency, among many other benefits," explains Nadkarni.

Visteon Corporation News

Visteon technology enhances Mazda CX-9s striking cockpit