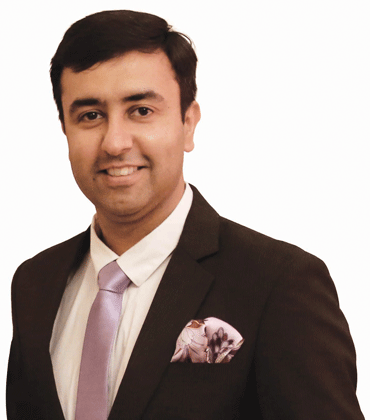 Nitin Tanwar, CEO
In 2011 when we started out as a data analytics and forecasting firm, we could sense the growing demand for short-term forecasts among the customers," begins Nitin Tanwar, CEO, Climate Connect. The firm builds real-time data platforms and artificial intelligence driven models and algorithms for forecasting and automated decision-making—specializing in power, gas, and emissions markets. "AI came as the natural choice to predict volatile conditions."
As applications of Artificial Intelligence (AI) infiltrate into various domains, its potential to improve efficiency is being realized more. The electric utility industry is not far behind. Green energy companies are deploying intelligent systems to gauge, learn, and anticipate demand and supply equations for intelligent energy management. Predictive analytic tools from Climate Connect hold great promises for the future.
The company's flagship software 'Energy & AI—General Learning Engine', often abbreviated as EAGLE, is an epitome of fine-tuned machine learning application. EAGLE helps customers engage in energy trading, demand management, and renewable generation.
Not every AI technology is relevant to the energy sector. The team at Climate Connect understands this and has rigorously experimented with several competing techniques to come up with the ones that are best suited for the industry. In some cases, standard algorithms are modified to further enhance the outcome. Multiple machine learning based algorithms built into EAGLE helps solar power generators forecast, schedule, and dispatch power from plants under dynamic weather conditions. Algorithms also forecast wholesale power market prices and enable automated trading for energy traders.
The world will digitally upscale in the next 20 years with AI managing the new energy paradigm driven by renewables
AI algorithms also help utilities optimize generation between renewable and thermal assets. EAGLE uses Amazon Web Services for storing and managing meaningful data. It uses the programming language, R, and MATLAB software for data crunching on the cloud and incorporates PHP for monitoring and frontend rendering.
When a leading solar power producer with over 2000 megawatt generation capacity faced challenges in forecasting intraday and day-ahead generation across its large portfolio and wanted to manage communication with grid operators under dynamic weather conditions, the company approached Climate Connect. After a thorough analysis, Climate Connect came up with a forecasting system capable of predicting generations from all the plants. The data connection system captured hundreds of parameters on a regular basis and fed them into machine learning algorithms to generate precise results, which is then used for commercial purposes such as scheduling with the grid operators. EAGLE proved to the best-suited application to the solve client's problem.
Having worked at several multinational companies, Tanwar realized that it is important to have a multicultural team to solve global problems. "Today we are a team of 6 nationalities, solving issues in the energy sector and helping mankind leapfrog into using green energy sources," says Tanwar. Over the years, Climate Connect has served a long list of clientele, which includes Chevron, SHELL, British Petroleum, Air Resources Board (Government of California), Government of Ontario (Canada), Union Gas, Capital Power, KOCH, GMR Energy, Jindal Power, ACME solar and Cargill, among others. Its services and dedication towards client success has helped it in being nominated among top 10 AI start-ups in India and receive the most innovative start-up in the energy sector.
To stay aligned with the evolving grid standards, regulations, and wholesale market dynamics, the company keeps upgrading its products. The company is devising new AI algorithms to take on the future challenges. It plans to focus on countries that already have liberalized—or are in the process of liberalizing—their energy markets like India, U.S., Canada, Australia and Europe. For Climate Connect, these markets present huge opportunities to capitalize on energy generation and usage.