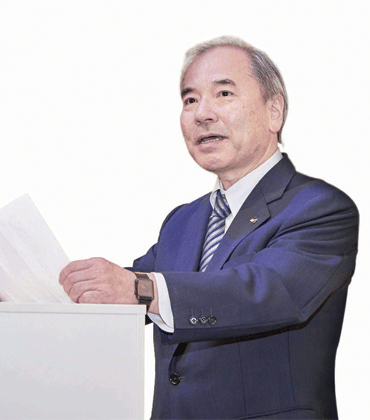 Dr. Yoshiharu Inaba, Chairman & CEO
When Seiuemon Inaba founded FANUC in 1956, it was hard to imagine the stature it would garner 60 years later. Today, FANUC operates as a collaboration of a group of companies, a global player providing automation products and services worldwide. FANUC with its unparalleled services such as robotics and computer numerical control systems and having established itself as the largest makers of industrial robots in the world has become a trailblazer in the Artificial Intelligence sector.
Deriving its name from an acronym for Fuji Automatic Numerical Control, FANUC became independent in 1972 to operate purely as the Computer Control Division. The firm historically has always been in pursuit of automation of factories. Throughout their six-decade history, the company has had a constant commitment towards innovating and developing new products.
With the development of the SERVO mechanism, it marked as a breakthrough achievement in the Japanese private sector. FANUC contributes to the promotion of automation for customers in different spheres – Factory Auomation (FA) Business Division, ROBOT Business Division, and ROBOMACHINE Business Division, which apply basic technologies of NC and SERVO.
FANUC's products in the FA division are divided in three categories – Computer Numerical Control (CNC), Serve Motor, and Laser Oscillators. In the CNC sub-division which is used for Milling, Tutning, Twin Turret, Punch press, and Grinding, the firm offers world standard tools and machines catering to various industry requirements. Nano CNC for High-speed High-accuracy machining, High Response CNC for General Industrial Machine, New user interface for consistent support of shop floor operation, PC software for collecting and visualizing the machine information, Integrated Operation & Programming Guidance, and CNC Learning and Support Tool being some of them. Under the SERVO sub-division, FANUC has many motors in store. Namely, Nano Control Servo, Large Servo Motor for Industrial Machines with Electric Servo, High Performance and Value High Precision Servo, Synchronous Built-in Servo Motor featuring Large Torque and Smooth Feed, Linear Motor Realizing High Speed and High Precision Feed, and Built-in Spindle Motor achieving high performance machine tool spindle. Along with CNC machines and Servo motors, FANUC also offers Carbon Dioxide Laser oscillators and Fiber Laser oscillators. It has to be mentioned that FANUC is the largest maker of CNC controls holding a global market share of 65 percent and is the leading global manufacturer of factory automation systems.
The firm also has an incredible line up of highly reliable and intelligent robots with sophisticated controllers and networking capability for versatile applications. Their line-up includes Collaborative robot, Genkotsu Mini robot, Small or Medium sized Arc welding robot, Large size robot, Paint robot, Palletizing robot, and others. FANUC's robots are well-known for their built-in features.
The company recorded 390,327 million yen in sales, a marked increase of 19.9 percent in the last financial year
The FANUC Robot come with vision and force sensing intelligence providing superior performance with integrated human skills and integrated vision function iRVision. It also features Networking that promotes integrated management at production floors with versatile functionality for communication, control, and production management. FANUC's robots have Zero Down Time (ZDT) possessing a centralized management system of Mechanical condition check, Process status check, Preventive maintenance, and System health check. The robots are also ingrained with Deep Learning – enabling the robot to optimize the motion by itself, obtain product inspection knowhow, and detect its own problem. Deep learning will not only improve the productivities, but also contribute to an improvement of production technology and a saving of maintenance. Lastly, the robots offer versatile process solutions for applications for efficient automatization of any requirements in production. FANUC provides the robot system best suited to customers' needs.
In addition to its integrated features, FANUC's Robots provide a great deal of advantages. They range from being Highly Productive – Robots are faster and can work nights, weekends, holidays, and in lights out facilities without a rest, and can improved work reliability. These Robots are highly durable and can be relied on for a long term operation and can also perform complex operations. Robots are more accurate and consistently provide higher quality labour and Reduced Cost, and can significantly reduce personnel costs with easier process system. The FANUC Robot guarantees high reliability with durable designs, predictable diagnostic features, and easy to repair mechanical units. It is also highly efficient and offer high flexibility with specialized features such as Visual tracking, Deep learning, and Force sensing. The ROBOMACHINE division has four well-drilled well-oiled machines – ROBODRILL (Compact Machining Center), ROBOSHOT (Electric Injection Molding Machine), ROBOCUT (Wire-Cut Electric Discharge Machine), and ROBONANO (Ultra Precision Machine).
The FANUC Robot conform to every industry safety standards and meets ISO:9001 certifications. It is compliant with the European, American, Korean, compliance standards, and offers premium customer service and support worldwide through subsidiaries and affiliates. It also provides for a Training center for both domestic and overseas customers with suitable courses in all the three departments – FA, ROBOT, and ROBOMACHINE.
The Japanese firm with 240 joint ventures, subsidiaries, and offices in over 46 countries has earned an excellent reputation all over the world including the United States, Europe, and other Asian countries. It has built and would continue to develop its own global service customer service network to ensure product quality and contribute to high productivity. The company recorded 390,327 million yen in sales, a marked increase of 19.9 percent in the last financial year '16. It is forecasted to grow at 16.4 percent reaching 521,000 million yen in sales. Headquartered in the foothills of Mount Fuji adjacent to Fuji-Hakone Izu National Park, FANUC practises a 'nature-conscious technologies for manufacturing'. For their efforts towards environment protection, the company was conferred with the Prize of the Minister of the Ministry of International Trade and Industry for the First Global Environment Award. While striving to protect the environment and save energy, it works to innovate and develop credible automation and robotics products. As Dr. Inaba proclaims, "There is a history of technology, but for engineers there is no past. There is only creation" and this is the stance FANUC carries now and in the years to come.