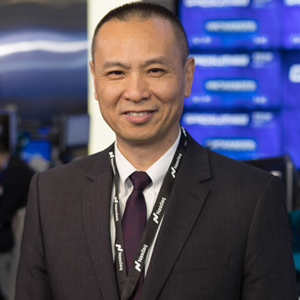 John Liu, CTO
In an era where businesses collectively generate more information in a day than they used to in a century, data silos stand tall as a significant hindrance in the path of every organization today. However, the evolving role of artificial intelligence (AI) that is no more limited to interactive voice assistants or self-driving cars but is very extensive on a global scale of applicability is empowering organizations to overcome this impediment with ease. Founded in 2005, Gridsum—a Beijing-based company—is advancing swiftly in the AI arena to enable customers to identify complex relationships within their data sets and gain new insights to grow their business effectively. Symbolizing the combination of distributed computing (Grid) and analytics (sum), the company is on a mission to aid enterprises, and government agencies in China in the utilization of data efficiently and make informed business decisions. Gridsum CTO, John Liu says, "We attach a lot of importance to the domain experts and data scientists for developing Gridsum's AI capabilities. We have senior oil & gas experts, experienced judges, and many other professionals helping the company achieve breakthroughs in all its ventures."
Our Big Data platform performs real-time, multi-dimensional correlation analysis of both structured and unstructured data
With a keen focus on big data and AI capabilities, Gridsum empowers its clients to succeed in their digital transformation journey and solve complex business problems such as adapting to the changing technological landscape, uncertainty, risk management, and many more through its solutions. "Our Big Data platform performs real-time, multi-dimensional correlation analysis of both structured and unstructured data, enabling clients to identify intricate relationships within their information cluster and gain actionable insights," says Liu.
The company's new-generation data warehouse solution consolidates and integrates internal data from silos of individual software systems. While catering to its extensive client base spanning across multiple industries, Gridsum is not limited to big data; utilizing technologies such as natural language processing (NLP), knowledge graph, and machine learning, it automatically learns and understands different data, documents, and business logics to formulate effective solutions to real world problems.

Gridsum's proficiency in data analytics and artificial intelligence is cemented by a multitude of collaborations across industries such as digital marketing, professional services (e.g. judicial & law), and industrials (e.g. oil & gas). Highlighting the challenges in digital marketing, Liu says, "Internet traffic space becomes cluttered as new forms of media continue to enter the marketplace at breakneck speeds." Combating this problem is Gridsum's digital marketing AI solution that enables clients to analyze their ROI generated from every media stream and then help them formulate an effective marketing strategy. Moreover, the company also allows clients to smartly allocate their budget across a diverse set of media platforms by accumulating and analyzing historical data while recognizing invalid traffic. Thus, the solution allows organizations to use their marketing dollars intelligently and also achieve the desired business results.

Besides the digital marketing arena, Gridsum also caters to the judicial space by providing courts with an integrated, end-to-end smart court solution—a digital assistant— that supports judges before, during, and after the trials. The digital assistant facilitates judges with all the relevant information associated with a case by reading and understanding the legal documents. Also, the assistant utilizes voice and speech recognition to transcribe court proceedings and prepare the court verdict draft automatically. These advanced AI capabilities, thus liberate judges from the heavy work load and improve their productivity significantly. "Our service delivery does not stop at the courtroom. We also cater to the oil & gas industry, enabling them to gain essential information about both existing and new oil reserves possessing the potential to develop further. We do this by building a connected knowledge system by accumulating human knowledge and experience, connected with AI algorithms to achieve valuable insights on oil production prediction, and locating the petroleum drilling spot," adds Liu.

Since its inception in 2005, Gridsum has come a long way in the data analytics and AI space. The company, through its innovative strides, continues to deliver maximum value to its clients by improving their efficiency in product R&D and business operations while supporting them in their digital transformation. "We are also working on our partnerships with companies, developing smart energy solutions to help conserve energy, and create a sustainable future for the world," concludes Liu.