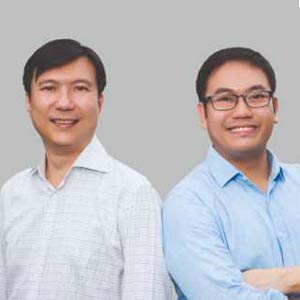 Charles Poon, Founding Director & Daryl Neo, Founding Director & CEO
Today, organizations are flying blind in effective risk management. With every passing year, they have to navigate through a minefield of financial, technological, operational, and legal risks, among others and weigh their decisions for successful decision making and business outcomes. In the complex and interconnected business landscape that is witnessing exponential data growth, trying to analyze and carry out due diligence checks or investigations manually is a herculean task. Inaccurate data and analysis could lead to time and productivity loss, regulatory scrutiny, customer dissatisfaction, and financial penalties, among others.
Addressing this critical need of modern-day organizations is Singapore-based Handshakes, a company that aims to give regulators, corporates, and financial services firms greater visibility over their data. "By leveraging technologies like AI and machine learning, we aim to automate the processes of harvesting insights to save our clients' valuable time spent on poring over vast data. It is important that they are able to discover relevant content in seconds, and guarantee consistent performance," says Daryl Neo, Founding Director of Handshakes. "Uncovering risks becomes a lot easier and possible with our suite of corporate intelligence solutions."
Handshakes' one-stop corporate intelligence platform, Handshakes App, collates and analyses data from a wide range of sources like company registry datasets and capital markets data to help organizations identify potential customers, beneficial ownership, and conflicts of interests.
Uncovering risks becomes a lot easier and possible with our suite of corporate intelligence solutions
The App helps organizations to instantly gain access to information in real-time about specific people or companies within the data network before entering into a deal with them, especially in areas where thorough background checks are required. The Handshakes platform is particularly useful for client on-boarding, background, due diligence checks, investigations as well as vendor risk management.
The platform is powered by Handshakes' SEER and FUSE technologies. SEER is an all-in-one self-evolving, machine learning package that can be used to monitor practically anything—from emails to legal documents, news to social media. It can be applied to a large collection of text too unwieldy for any individual to process, saving many days of effort, making difficult tasks like due diligence checks and investigation processes easier. FUSE, on the other hand, is the network graph visualization and analysis technology that connects discrete databases and applies advanced analytics to discover insights like conflict-of-interest, collusion, related parties, and more. Organizations can broaden their data horizons by connecting various in-house databases, or even fusing in-house data with Handshakes' data. Another important feature of Handshakes is their RED List Report that can be used to identify a company or person's direct or indirect exposure to adverse events, including enforcement and disciplinary actions.
Powered by Handshakes
Nikkei, a Japanese media group, recently entered into a business and capital tie-up with Handshakes. With this investment, Nikkei aims to leverage Handshakes' Machine Learning capabilities to enhance its corporate data and strengthen offerings of scoutAsia, a joint venture engaged in corporate news and data services launched by Nikkei and the Financial Times.
Powered by Handshakes AI, scoutAsia now offers customers their very own custom 'scouts', which can be trained to pick up not just keywords but also contextual information based on specific topics that are of special interest to the business. These 'scouts' then highlight relevant news on one's feed. They can also be programmed to send real-time alerts to users – ensuring that subscribers stay in the know.
Since AI technology is so crucial in unlocking the potential of data, Handshakes have taken steps to invest in AI research. Co-founder Charles Poon shared, "We are currently working with China-based Baihang Artificial Intelligence Institute, an institute envisioning building a world-class research platform, to set up a research team and perform collaborative AI research. Together, we look forward to developing new, meaningful AI products."