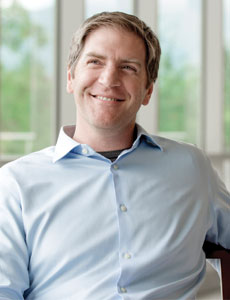 Dave Elkington, CEO
As the famous adage goes—"The world has the habit of making room for the man whose words and actions show that he knows where he is going." Utah-based tech giant InsideSales.com has tested this same principle in sales, and the results are worth sharing.
The productivity of a sales rep is directly proportional to the time spent selling. However, as statistics indicate, sales professionals today spend mere 35 percent of their time in the day selling. This is primarily because these professionals deal with a deluge of administrative tasks they need to manage in their CRM. Owing to such huge productivity and resource drain for companies, around 65 percent of a sales rep's time is consumed by non-revenue generating tasks. While many readily debate the fact, the solution to this lies with Artificial Intelligence (AI).
InsideSales.com's study with over 500 sales leaders found that AI is increasingly considered a sales solution, but few believe it to be easily accessible. David Elkington, CEO and founder of InsideSales.com, brings to light the more important aspects of AI and its ability to create value in the business environment. With companies trying to find new ways to be more effective at selling, InsideSales.com taps into AI and organizational data as a more robust, comprehensive driver for optimizing sales processes. The company presents a 'Crossover Model' that allows companies to move up segment, and do bigger deals without sacrificing the efficiency of inside sales, effectively shaping the way individuals and companies accelerate the sales of their products in the B2B space.
Harnessing the power of AI
InsideSales.com offers the sales industry's first comprehensive sales acceleration platform that creates high-performance sales teams with breakthrough technology. Elkington has built InsideSales.com on the back of AI by honing in on the three aspects of the innovative technology: data, science, and applications. "For artificial intelligence to produce the types of outcomes that have value for businesses, there must be a large quantity of high-quality data involved," he says. "As an example, in 2008, Amazon had just under 90 million unique customers each month and several hundred million transactions from which data could be extracted. In the consumer space, that's relatively simple to gather, but in an enterprise environment, the quantity isn't always there."
In addition to the quantity, businesses leveraging AI must also have quality data. Elkington explains, "The elements of data that matter in AI include having a global data set that provides an accurate representation of people. Data must also be cross-company so that the biases that come from a single view of a single company are not inherent. Data must also include an element of human behavior, and it must be understood within context and outcomes for the business." InsideSales.com labels data that encompasses each of these aspects as "neural data," and this is what is used to create its powerful engine for driving more efficient growth in sales organizations.
Artificial intelligence in any capacity has the element of science, or math, built in, but Elkington points out that this component is the least important. "The math has been around for 60 years, and while algorithms have evolved, the changes are nominally different." There are several open source platforms that offer many of the algorithms used in today's AI, so it is necessary for companies wanting to leverage the space to focus in on the data and the applications.
For AI to produce the types of outcomes that have value for businesses there must be a large quantity of high-quality data involved
"AI without an application or a defined purpose has minimal value," Elkington says, "and the applications used in AI must also be seamlessly integrated into the consumption workflow. That's the key to success." When high-quality data is provided in enough quantity, and then combined with the right science and intuitive applications, enterprises can utilize AI to impact outcomes both in the immediate and long-term. InsideSales.com understands that this is where the value lies for businesses, and within sales organizations, the technology of AI has the potential to offer the most help.
InsideSales can effectively shift the thinking around AI and its potential because of the company's vast amount of global, cross-company, human behavioral, and contextualized data sets.
"The InsideSales AI platform uses billions of cross company data points to deliver extraordinary customer value," says Elkington. "These are groups of people that buy, engage, or interact in a common way. There are also between 30 and 40 million company data sets, along with more than 100 billion behavioral interactions, which include anything that occurs between a buyer and seller."
Taking into account phone calls, conversations, website interactions, purchases, e-mail click-throughs, and online searches for a defined topic, InsideSales.com can incorporate all the ways buyers are digitally engaged with a brand. Similarly, InsideSales.com collects billions of points of contextual data, such as regional weather, sporting events, political changes, and other notable happenings, all of which can be reasonably structured and normalized. With this information, InsideSales.com has created an AI system for growth that leverages neural data to help organizations determine who to sell to, how to engage with them, and the optimal timing for doing so.
Buyer behaviors have changed dramatically with the onslaught of the digital revolution, and InsideSales. com is the only company which can meet the challenges of these shifting buyer needs. Through distinct platforms that run on the company's neural data backed AI, InsideSales. com customers can drive sales growth exponentially.
With the predictive sales cadence agent, Predictive Playbooks, sales reps are able to seamlessly integrate AI into their workflow, weaving together a highly personalized and optimized engagement engine. With Predictive Pipeline, a sales pipeline management solution, companies can accurately predict the sales outcome of a specific timeframe, based on the sales cycle and the elements and players involved in the sales experience, specific to each organization.
InsideSales.com also offers Predictive Cloud, which leverages neural data, science, and applications to create predictive questions around pricing, cross-sell optimization, and custom or additional data sets, all benefit from large sets of data that may be siloed across the organization in legacy systems.

Through each solution, Elkington explains, "AI is leveraged to create a return on investment, with customers achieving revenue uplift from the high single digits upward of 35 percent. For salespersons using this type of technology, sales optimization and growth are highly impacted."

Accelerating Business Momentum

Many of the world's most innovative, large B2B organizations tap into the power of InsideSales.com to achieve optimized engagement with current customers, prospective buyers, and other leads. One recent success story of InsideSales.com has been its partnership with Pure Storage, a modern data storage platform and the fastest growing systems company on record.

"InsideSales is positioned to consistently deliver value to customers in a sales environment"

Pure Storage, as a client, had an overarching challenge of ensuring that the solutions provided along with the technology and processes behind it were helping the business scale. The company sought out InsideSales. com to use Momentum (InsideSales. com's consulting services) and improve best practices on running a sales organization. Through the engagement with InsideSales.com, Pure Storage was able to assess what it had been doing regarding sales and what it needed to do moving forward. Through a combination of platform engagement, including predictive analytics and dialing, Pure Storage was able to achieve an increased call volume among its sales reps, as well as a much deeper engagement with prospects and customers to help build the pipeline. Using the InsideSales algorithms combined with the vast data on buyers, sellers, and customer engagement it has collated throughout years of research, the client was able to get a much better viewpoint on how to improve processes with the help of AI. InsideSales.com thoroughly understands the use of AI in business cases, and its innovation continues as more enterprises recognize the potential of the data, science, and applications involved.

"The company continuously finds value for customers in neural data, and we are always looking at this data differently," says Elkington. "That creates a lot of opportunities for customers to think about their sales team behavior, the content of their interactions, and how that influences growth across the entire organization." InsideSales is focused on helping its customers succeed by continuing conversations about what value can be driven through AI technology in practice. InsideSales is expanding its footprint into more verticals, like financial services, healthcare, and telecommunications, as well as reaching new heights in mobile solutions for sellers.

The company is currently among the fastest growing tech companies, and is also one of the leading job creators in the software industry. "InsideSales is positioned to consistently deliver value to customers in a sales environment," says Elkington, "by building on the strong foundation of neural data and our deep understanding of AI."