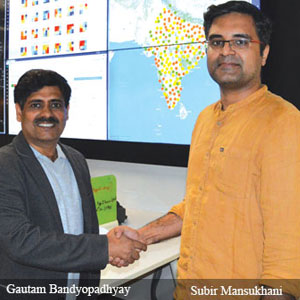 Gautam Bandyopadhyay, Co-Founder & Head of Banking Solutions and Subir Mansukhani, Chief Data Officer
Way back in 2013, the founders of Novopay noticed that distribution of banking services to masses remained either non-existent or very expensive for banks. Banking in India had not reached everybody, in fact half the country was unbanked. Even though the banking system was highly mature with most banks having implemented core banking systems (CBS), the cost of banking was high with services available only to the upper and middle-class population. With high cost structures based on expensive CBS, physical bank branches and highly paid bank officers, it was not profitable to deliver banking to 800m people below the middle-class segment. The team pondered on "Can a core banking solution host 100 million customers, yet be managed by 100 people to provide superior banking experience, unparalleled operational efficiencies and low cost banking for all?". They set out to meet this goal by leveraging three key pillars viz. a) Aadhaar - the biometric based national id of India b) high penetration of data mobility and particularly low cost Android smartphones and c) ubiquitous presence of small retailers across cities and villages.
In response to this opportunity, Novopay created a cutting-edge CBS that offers a Lending and Payments platform to handle millions of bank accounts and perform billions of payments and banking transactions. The CBS is designed as an "AI-First CBS" which is built on a modular μservices architecture, is API-enabled, GIS ready and leverages big data for analytics and dashboards.
This platform today powers Novopay's Retail network of 50,000+ outlets across 20+ states in India and processes over 40m transactions in a year. Novopay's CBS also powers IDFC Bank's μPayments and μLending verticals. At IDFC Bank, Novopay's CBS processes over 80m payments a year and 1.4m loan customers.
Novopay's Core Banking solution is a vertically integrated CBS, that comes with Liabilities, Payments and Lending modules. These modules are pre-integrated with Apps, Dashboards and Analytics, API Gateway and AI modules.
Our vertically integrated CBS solution can help banks and financial services to bring digital transformation of internal and external process with great agility and at lowest marginal cost of transaction
Novopay mobile and web apps enable users to perform self-service and assisted transactions. These apps are lightweight, responsive, secure with built in MDM capabilities.
Novopay Analytics leverages a big data stack & supports various configurable dashboards such as Business dashboards, Performance dashboards, Risk dashboards etc. including GIS based dashboards. Such analytics assists executive decision-making and also helps to improve productivity and spot early trends and issues.
"We realised that Banks and Financial services organisations have several fragmented sub-systems stitched together in a delicate way. This reduces the agility and ability to innovate in a fast changing world. Often, an organisation is forced to accept the lowest common denominator and struggle to achieve their business goals. We wanted to change these constraints and empower banks with a vertically integrated, well architected stack to provide rapid change and innovation", says Gautam Bandyopadhyay, co-founder and Head of Banking solutions at Novopay.
Artificial intelligence, specifically Machine learning (ML) is a technology that has made the most advancement in the last 10 years and probably will be the most impactful in the next 10. Novopay has built deep capabilities around ML and integrated the same with its CBS offering. What started as a lending project to Novopay's own retailers, evolved as a full fledged AI platform - Clutch.AI. "We realised that most of the Novopay retailers did not have credit bureau scores, a key criteria of existing lending processes," says Jerry Vachaparambil, Strategic Marketing & Global Alliances, Clutch.AI. Clutch.AI built an AI-enabled credit rating engine, leveraging alternative data to credit rate Novopay's retailers, giving access to loans between Rupees 30K to 200K. Powered by Clutch.AI, Novopay has built several AI capabilities into the CBS such as Credit rating, Credit monitoring, Fraud detection and Customer segmentation using historical and live financial data (POS and cellphone metadata, public records, etc.) to derive patterns from customer behaviour and demographics to build predictive algorithms that accurately predicts results. Clutch.AI modules also provide for a simple to use self-serve Machine learning workbench. ML Workbench allows users to experiment with exploratory data models, supervised and unsupervised learning models, anamoly learning models using built in AI libraries. The ML Workbench provides intuitive dashboards to interpret, evaluate and monitor AI models, deploy models as API endpoints with one-click and enable consumption of the APIs within business processes.
ML Workbench, powered by Clutch.AI is a unique capability of Novopay CBS, which not only allows AI models to be easily understood by a broader section business users, but also allows easy development and deployment of AI in practice. Clutch.AI is used today to analyse over 3 million transactions per month and profile 50,000+ retailers.