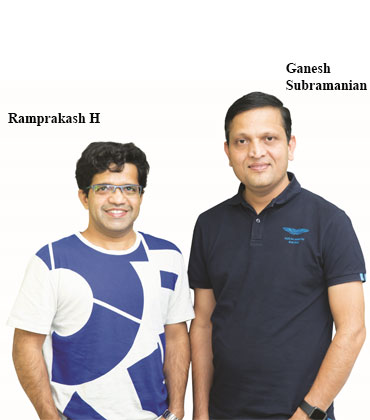 Ram Prakash H Co-founder & Chief Scientist and Ganesh Subramanian Founder & CEO
Decoding the fashion taste of consumers is what the fashion industry needs. Full Price Sell Through (FPST) governs the revenue of fashion brands, yet its number for the last decade remains at 50 percent. This indicates that there is a huge gap between supply and demand–what the consumers want and what the industry produces. By leveraging the power of Artificial Intelligence (AI), the fashion taste of consumers could be discovered, and their demand could be met. Fashion is an art, yet understanding what works and what does not real-time is a science. A fusion of both is what Stylumia does.
Among the first of its kind in fashion industry, Stylumia believes that AI could be applied to fashion and bring brands and retailers closer to the customers. Founded by Ganesh Subramanian, Founder & CEO and Ramprakash H, Co-founder & Chief Scientist, Stylumia provides a platform to analyze raw unstructured data–text and visual–and derive intelligent actionable data that allow fashion professionals to design the right customer-centric product. This is the "Fashion Brain" of Stylumia, and it reflects the nature of consumers' brain. Using AI and computer vision, Stylumia is creating Visual Intelligence for fashion industry to get a clear picture of consumers' fashion taste. Stylumia scans and incorporates social media and brands and retails signal with deep learning and AI to produce perceptual intellectual actionable insight. Varieties of images, user behaviour data, and textual description are translated into tangible image allowing fashion professionals to make a laser-edge decision for future.
Using AI and Computer Vision, Stylumia is creating Visual Intelligence for fashion industry to get a clear picture of consumers' fashion taste thus enabling "Earn More, Burn Less"
Subramanian articulates that more than 50 percent of E-tailer stock is sold on discount, and it requires solution to bridge the gap. "Fashion is an art, and any articulation or narration will not do justice to fashion. Hence, traditional big data analytics using tags will always come short in creating actionable insights," says Subramanian. This can only be solved by finding the constant root that influences the decision making of consumers using AI.
It has been proven that consumer-driven innovation is more successful than speculative innovation. But fashion industry has not been able to do so because of the complexity of the industry-constant change in demands, long lead time, and short product life cycle. By decoding the fashion taste of consumers, Stylumia takes consumer-driven approach in predicting future trend. The three modules of Stylumia–market analyzer, customized intelligence, and predictor bots–enable its clients to gain market intelligence, visual intelligence from clients' own data, and predict future success of new products.
Stylumia, within a short span of time has captured the attention of international brands such as Pepe Jeans, Wrangler, Jack Jones. With Stylumia's insight, many brands have experienced huge increase in their sales. The platform has proven to be helpful in tackling challenges such as low FPST, unsold inventory, high discounts, and validating product decision.
Continuing the same momentum, Stylumia is working to improve its platform by creating a Zero-touch User Interface to experience intelligence with Stylumia through conversation and voice. Stylumia is bridging the gap between brands and consumers through experimentation and improvement of its platform. "Our objective is to decode the fashion taste of every consumer in the world and enable fashion professionals in brands and retailers meet those tastes on an ongoing basis. In doing so, we help billions of people look good and feel good. This is the goal that excites us and gets us jumping out of our beds," says Subramanian.