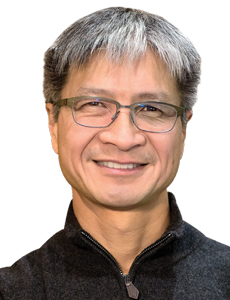 Victor Peng, President & CEO
As the number of devices connecting to the internet is increasing rapidly, they must be secure to deter intruders, right down to the hardware level. As these devices, machines, systems, and networks become more context-aware they must adapt to their environments to meet the growing demands of impatient end users. Meanwhile, behind the scenes, they must process an exponentially growing amount of data, packets, and pixels with ever more sophisticated algorithms. This can only be accomplished by combining software intelligence with hardware optimization and any-to-any connectivity, just like how Xilinx works.
Xilinx is a pioneer in delivering adaptive and flexible processing platforms and solutions that enable rapid innovation across a variety of technologies—from the endpoint to the edge to the cloud. "Adaptive computing is being able to optimize for different workloads using the same underlying physical hardware. Whether you're adapting dynamically or just at bootup, you can reconfigure one physical platform either for the same workload, iterating improvements over time, or for different workloads," begins Victor Peng, President and CEO, Xilinx.
"Xilinx's DNA is programmability, flexibility, and adaptability"
Xilinx's FPGA, hardware programmable SoCs, is designed to deliver the most dynamic processor technology in the industry and enable the most intelligent and connected world of the future. Its offerings enable smarter and differentiated IT systems that incorporate the highest levels of software-based intelligence with hardware optimization. Furthermore, Xilinx delivers the highest throughput at the lowest latency for low-latency AI Inference. "Xilinx's DNA is programmability, flexibility, and adaptability. We're going to focus on leading with that. We've been the leader. We've been the innovator in this field," states Peng.
Delivering Intelligent and Adaptable IT
Xilinx's programmable highly flexible silicon, enabled by a suite of sophisticated tools and software, drives rapid innovation across a variety of industries and technologies ranging from cars to the cloud. The company also offers one of the most dynamic processing technologies in the industry, enabling rapid innovation with its adaptable, and highly intelligent computing. Xilinx achieves this by building user-friendly development tools, growing the compute ecosystem, while accelerating the most critical data center applications.
One of the applications that make Xilinx stand apart in the industry is their adaptive compute acceleration platform (ACAP). ACAP is ideally suited to accelerate a broad set of applications in the emerging era of artificial intelligence and big data, such as video transcoding, data compression, database, search, genomics, machine vision, and network acceleration.
One of the applications that make Xilinx stand out in the industry is their adaptive compute acceleration platform (ACAP)
Software and hardware developers will be able to design ACAP-based products for endpoint, edge, and cloud applications.
Another innovative offering from the company is the Xilinx Edge AI platform that provides comprehensive tools and models, which utilize unique deep compression and hardware-accelerated deep learning capability. While providing support networks for Caffe, Tensorflow, and MXNet, the solution seamlessly compiles networks to optimized Xilinx Edge runtime. It can also offer optimized hardware acceleration of both AI Inference and other performance-critical functions by tightly coupling custom accelerators into a dynamic architecture silicon device. As a result, this delivers end-to-end application performance that is significantly greater than a fixed-architecture AI accelerator like a GPU; because with a GPU, the other performance-critical functions of the application must run, without affecting the performance.
In addition, the Xilinx adaptable hardware can accelerate most AI/ML models when deployed in inference applications. Optimized by Xilinx's tools, it seamlessly works with industry-standard frameworks without additional performance degradation. Once optimized, the model works with Xilinx driver software and runtime, with optimized portions. Moreover, the solution's migration feature is designed to be straightforward and requires no hardware expertise or FPGA programming experience.
Xilinx's AI Optimization tools provide Deep Neural Network (DNN) quantization, pruning, and other optimization capabilities to reduce the size of the model with minimal impact on accuracy. Typically models are quantized to 16-bit or 8-bit for inference implementation, although custom precision can be used depending on the exact application.
Partnering for Innovation
Over the years, Xilinx has been enabling the innovators, and change agents develop the next breakthrough idea with the most sophisticated solutions and help them get to market faster, and stay competitive in an ever-changing world to be at the forefront of the industry. "We're in open source, and have lots of GitHub products," adds Peng.
Xilinx and Samsung Electronics are working together in developing the world's first 5G New Radio (NR) commercial deployment in South Korea and will be followed by additional countries globally. Samsung is collaborating with Xilinx on its forthcoming Versal adaptable compute acceleration platform products to deliver state-of-the-art 5G solutions to address a multi-fold increase in compute density requirements in next-generation 5G MIMO systems while enabling the use of machine learning algorithms to maximize the benefits of beamforming for better performance. "We are witnessing continued strong demand at many of our wired and wireless customers in support of global 5G deployment, and we remain well-positioned during this initial wave of the 5G cycle," informs Peng.
A success story that draws the value proposition of Xilinx is when the company assisted Aupera Technologies—an emerging player in data center video processing systems—in enhancing the capabilities of its purpose-built, distributed video processing system. Aupera is focused on implementing heterogeneous computing architecture at the system level to build a highly efficient video processing platform. The traditional x86 systems from Aupera becoming the compute bottleneck as the internet video grows to more than 80 percent of the total network traffic in the coming years. The company's main objective is to change the video processing landscape in the data center with a completely new architecture and software framework. To remove the CPU data center bottleneck, Aupera worked closely with YY, Inc, the largest live streaming video company in China with more than 100M active users, to design its Aup2600 system for large scale, real-time video transcoding and content analytics. In addition to its unique architecture, the Aup2600 features a complete video+AI software framework based on the Xilinx Vivado environment and Deep Learning Processor Unit (DPU) engine for neural network processing. The software framework includes customized boot loader and accelerator for the xfOpenCV computer vision library, video codec, and deep learning algorithms for object detection and feature extraction.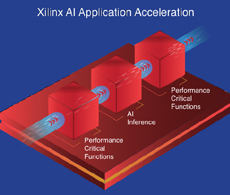 During its early engagement with YY, Aupera needed to address rapid deployment of low latency, high-efficiency video transcoding, and future seamless upgrade of AI functions running on the FPGA based system. They also needed to know what standard content to push to Aupera leveraged the work Xilinx has done to provide a comprehensive AI environment for common model frameworks like Caffe. With Xilinx, Aupera achieved significant improvements in all the most critical metrics with the Aup2600. Performance increased 33X compared to x86-based transcoding systems, and the Aup2600 only requires 1/10th of the space and power of traditional server-based approaches. For YY, this translated into very high-quality video service at a much lower cost per channel. The Xilinx ecosystem is beneficial, and putting the data center first is a great strategy.
Future of Adaptive and Intelligent Computing
As part of its endeavor to reach new heights in adaptive and intelligent computing, Xilinx recently expanded its Alveo data center accelerator card portfolio with the launch of the Alveo U50—industry's first low profile adaptable accelerator with PCIe Gen 4 support, uniquely designed to supercharge a broad range of critical network and storage workloads. Furthermore, the company also acquired NGCodec—a provider of a powerful, differentiated video encoding technology that delivers greater visual quality at lower bandwidth requirements. "While staying focused, we're going to play from our strengths. We're going to work with our ecosystem. If there are open standards that we see the future is going to require, we'll use them," concludes Peng.
- Selena James
September 06, 2019